By Dr. Hugh Black, Asthma & Allergy Specialists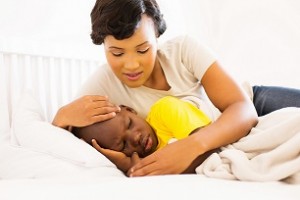 Each of these viruses has the common feature of causing airway injury, but each can have its own unique set of symptoms:
Rhinovirus causes sore throat and nasal congestion for most, but can trigger significant wheezing in patients with asthma.
RSV virus causes head congestion, sore throat and laryngitis in older children and adults. The symptoms can be much more severe in infants, causing significant lower airway infections with difficulty breathing. This condition, called bronchiolitis, is one of the major causes of hospitalization for infants and young children.
Para influenza causes croup, which is a swelling just below the vocal cords, producing a deep barky cough and difficulty breathing.
Human meta-pneumovirus causes major airway injury with a wet cough that can last for weeks.
Influenza has a variety of symptoms including coughing, muscle aches, chills, fever, headache and stomach upset.
Preventing respiratory tract infections in children is difficult. These viruses are spread by contact. Simply touching a contaminated surface and then putting a hand to mouth or nose is enough to cause an infection. Good hand washing is the proven way to decrease the spread of a virus in a household.  Medications to prevent these viral illnesses are limited. There is a preventative injectable medication for RSV, but it is only approved for select premature infants or infants with heart disease who are at high risk. Only influenza has a widely available vaccine, which is usually given in the fall and begins providing immunity in most patients a month or so after inoculation. There are oral medications that can be used to treat influenza, but they work best if they are started in the first 48 hours of symptoms. These same medications can be used preventively, to reduce your child's chances of becoming infected with influenza if you know they have been exposed.
Parents should contact their physician to discuss starting these medications if they or their child have flu symptoms or have been closely exposed to someone with the flu. For most viral illnesses, the cough can be extreme, but cough and cold formulas rarely make a significant difference in the amount of coughing or the speed of the healing process. If a child develops wheezing or labored breathing, or demonstrates a reduced interest in food and water, their primary care provider can guide parents as to the best course of action.
One of the most difficult aspects of respiratory virus season is the frequency with which children can become infected. It is common for children under the age of three to be infected with one of these viruses every three to four weeks during virus season, frequently contracting a new virus before healing from the last. Though viruses are present year-round, summer respiratory infections are less common, giving families a reprieve from June through September before starting the cycle all over again.
Hugh Black, MD, is a board-certified Pediatric Pulmonologist who has been practicing Pediatric Pulmonary and Allergy Medicine in Charlotte for almost 20 years. He practices with Asthma and Allergy Specialists, PA, and is the co-director of both Sleepwell Kids Pediatric Sleep Center and the Western Carolinas Affiliate Cystic Fibrosis Center.
This blog was produced in partnership with Charlotte Parent. Click here for the original post and other parenting resources.
Achievements / Associations