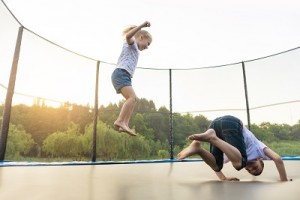 By William T. Chirico Jr., OrthoCarolina
The warm breezes of the summer months beckon children to play outdoors, burn off energy and get some fresh air. And in our modern era of video games, tablets and mobile devices, any alluring outdoor plaything that grabs kids' attention will typically get parent votes, too.
But then your children see the neighbors' kids jumping on their new trampoline, and come running to ask you if they can jump too. Sometimes the group on the trampoline is more than just one or two in number, and suddenly you envision a horde of ten kids screaming with delight, bouncing in close proximity. The what ifs race through your mind as your anxiety levels start to spike. As a parent, how do you respond?
As a physical therapist I never want to discourage children from getting exercise or that feeling of freedom and fun that comes from the joy of jumping on a trampoline. So here's the low down about the injuries that typically happen and how to best avoid them.
It's probably not a surprise to hear that most trampoline injuries happen as the result of children colliding with one another, tripping on the trampoline springs or frames, falling off the trampoline or attempting stunts that go awry. Most injuries happen to the leg or foot, followed by the arm or hand, and then the head/face/neck/shoulder/trunk area.
The Consumer Product Safety Commission (CPSC) is a governmental organization tasked with protecting consumers and families from dangerous products and working to ensure the safety of consumer products. They are considered the gold standard when it comes to checking product safety, especially by brand. The CPSC also sets consumer use guidelines for products like trampolines.
Here are some suggested safety guidelines for children using trampolines, and you can find the CPSC's full set of trampoline recommendations on their website.
Use a trampoline net enclosure to prevent falls.
Ensure that trampoline padding covers all frames, hooks and springs.
Strictly prohibit children younger than six from jumping on trampolines over 20" tall.
Do not buy or use a ladder for your trampoline in order to prevent children under six from accessing ladders.
Closely supervise children at all times.
Obviously, part of the fun of jumping on a trampoline for kids is playing with their friends. And while in an ideal world the safest way to jump is one [child] on, one off at a time, we as parents know that's not realistic. When children jump together try to make sure the children on the trampoline are similar ages in age and size. To accomplish this, consider having the children take turns or jump in shifts with another fun activity planned for those waiting for their turn on the trampoline.
An alternative to consider to backyard trampoline jumping is indoor trampoline parks, which can be found in many cities and offer a somewhat safer option to expel energy while still having fun. Indoor trampoline parks can put kids at risk just like outdoor trampolines would, but actually tend to have relatively low injury rates overall. According to Forbes.com these facilities actually have less frequent injuries than more common forms of kid recreation like baseball, soccer and football.
Most outdoor activities involve human bodies in motion, so any outdoor activity can be dangerous under certain conditions. Trampolines can provide fun and exercise for our children as long as we follow proper safety guidelines. Take the time as a parent to be knowledgeable on trampoline precautions, making sure you are familiar with the specific brand or product in use. Educate your kids on how to properly and safely participate in the activity. Have fun jumping!
William T. Chirico Jr., DPT, Cert MDT, Cert DN is a physical therapist with OrthoCarolina Monroe. 
This blog was produced in partnership with Charlotte Parent. Click here for the original post and other parenting resources.
Achievements / Associations