704.370.0223
1900 Randolph Road,
Suite 210 Charlotte, NC 28207
Lily's Story
By Maralie Medlin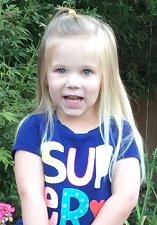 Before my daughter Lily got sick with pneumonia, I had never heard the term "thoracoscopy with decortication." Fortunately for my family, pediatric surgeon Dr. Andrew Schulman of Pediatric Surgical Associates is an expert at it.
We had to admit Lily to the hospital unexpectedly when she contracted pneumonia in 2015. We knew pneumonia could be serious, but for a healthy three-year-old, we thought she would recover in a matter of a few days. I even remember saying to my husband, "People get pneumonia all the time, right?" Understanding the severity of Lily's illness escaped me for the first few days – until day five in the hospital, when she took an unexpected turn for the worse.
An ultrasound revealed a lot of fluid pushing on the outside of Lily's right lung. There was so much fluid, her heart was actually being pushed out of place! The initial plan was to wait to take action once the weekend had passed. We wanted to trust this plan, but when you see your child's heart shifting out of place and you watch her struggle to breathe inside an ICU for five days, you have a hard time believing that waiting makes sense. In our hearts, we felt Lily's situation was dire. We needed to do something more, and we needed to do it quickly. My husband is a nurse, and he asked his colleagues what we should do. We were surprised to hear so many of our medical friends unanimously recommend Pediatric Surgical Associates. Wanting to do the very best for Lily, PSA was our next call.
Imagine our surprise, joy and relief when, within 20 minutes, Dr. Andrew Schulman was in Lily's room! A CT scan showed her right lung had completely collapsed. He said we needed to do surgery immediately. Although he didn't say the surgery was necessary to save Lily's life that very moment, we felt the concern in his urgency. We were so scared.
In order to drain the fluid, Dr. Schulman had to remove a thick membrane that had formed over the lung. Her lung had become necrotic in several places. In spite of this damage, and because of Dr. Schulman's quick actions and expertise, Lily began to heal slowly but surely. She eventually made a full recovery! Her latest x-ray showed no sign of scarring.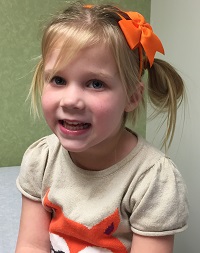 Before this experience, I never knew or appreciated the difference choosing a pediatric surgeon could make. After the ordeal was over, several doctors confessed that people often die from Lily's type of complicated pneumonia. I also overheard a surgical nurse say that without a doubt, Dr. Schulman saved Lily's life with the surgery he successfully performed in less than two hours. I had no idea that pneumonia was so dangerous, and I thank God that my husband's colleagues recommended PSA to give Lily the best outcome possible. I often shudder to think what would have happened had we waited, or had my husband's coworkers not suggested we reach out to PSA. It's very possible I could have lost my child.
My advice to parents who are facing difficult decisions about their child's health is to seek the best at every step. During those heartbreaking 18 days in the hospital, I learned how easy it is to trust what anyone in a hospital tells you because you feel so helpless not having their medical knowledge. But I'll never forget the advice my husband gave me one night when he had to leave me alone with Lily. Before he left, he said, "You are Lily's advocate. You're the only voice she has. Speak up for her." Doing just that led us to PSA, and it led to Lily's full recovery. Ask questions, make the doctors and nurses take the time to explain the answers, and when you don't feel right about what you're being told, look for professionals who have your child's health in their best interest. Don't settle for a doctor or surgeon who sees your child as a job. Look for medical professionals who treat your child as their own – the kind who show up 20 minutes after you call them because they see a child in need. The answer to your child's health problem is out there, and trusting your instinct to find it just might save your child's life.
Achievements / Associations