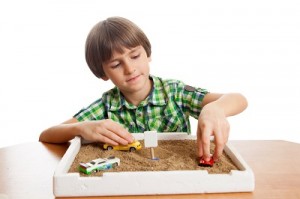 By Emily Cannon, MSW, LCSW, RPT 
Clinically-speaking, play therapy is the most developmentally-appropriate treatment model for preschool and elementary age children; simply put, play therapy helps children express their feelings by "doing" rather than by directly talking about and reflecting upon what's bothering them.
Typically, children do not have the insight or vocabulary to directly verbalize their feelings or experiences like adults do. Children express themselves through behavior, which, observed by a professional play therapist, can provide immeasurable insight into how they process life experiences like divorce, illness, death of a friend or family member, abuse or bullying. (It's important to note, stressors can also include positive changes like going to a new school, getting a new sibling or being adopted into a loving forever family!)
Play provides children with psychological distance from their problems. The playroom is a safe space where a child can play out life experiences by breaking them down into smaller parts. They learn to communicate how they are feeling about each part, work through it and release the associated emotions. They develop problem-solving skills that can apply to various settings in their life.
Here's how it looks:
In an initial session with a child, the therapist will usually engage the child in playing a game they may be familiar with in order to build rapport. For example, I will frequently use the game Jenga and have questions written on the bricks ranging from things like, "What was your best birthday ever?" to "If you could wake up tomorrow and something could be different, what would you change?" In future sessions, sometimes the child will naturally gravitate toward certain things in the room and I will follow the lead they take in their play. Other times, I might provide a prompt, such as asking them to draw or create something specific, do a puppet show or create something in our sandtray about their friends or something at home, etc.
They are then able to project themselves and other "key players" onto animals, puppets or doll house figurines. As we process what has been created, we can then discuss what the lion may be feeling, or how to help the sheep puppet join in with the other farm friends. It usually clear to the therapist who the child is in the world he or she has created. It is safer and more comfortable for the therapist to explore things about the character the child has projected themselves onto instead of making it directly about them. Often I will say things like, "I wonder if you ever feel out of control like the lion does?" etc. as part of the processing and skill building.
Play therapy provides a good foundation for all kids. Play therapy promotes self-regulation, an internal sense of esteem and healthy coping skills to assist in whatever may arise down the road. Any child can benefit from it regardless of having a specific stressor or struggling with something like anxiety, depression or ADHD.
If you think your child could benefit from play therapy, the first step is to find a play therapist you like that you think will best connect with your child. Look to work with an individual who is a Registered Play Therapist (RPT) or someone in the process of becoming an RPT, meaning they are under the supervision of someone who is already an RPT. A great resource for finding an RPT in your area and more information on play therapy is the Association for Play Therapy. School guidance counselors and pediatrician offices can also be a great source for referrals.
In two weeks, I will share Part Two of this blog, about how to prepare yourself and your child for play therapy. Until then, stay well.
Emily Cannon is a licensed clinical social worker and has been working with children and families since 2007. Emily opened Pathways to Growth Counseling in 2012, with the goal of providing comprehensive services to individuals and families in and around Charlotte. This blog was produced in partnership with Charlotte Parent. Click here for the original post and other parenting resources.
Achievements / Associations